SATURDAY, October 5th 2019, 9AM – 3PM
The "Aroha Cruise In" is a time to show case the awesome little steampunk town of Te Aroha. What better way to do it than with Classic cars, electric cars, bikes and hot rods, held in the main street of Te Aroha, Waikato.  
As well as interesting and unique vehicles there will be lots of family entertainment including live bands, face painting, balloonist, bouncy slide, sausage sizzles, stilt walkers, craft and trade stalls.  The Better NZ Trust, in conjunction with Waikato EV Owners, will have a stall.
---
Also: Aroha Cruise-In High Tea in the Te Aroha Domain Tickets for High Tea $30. What better way to enjoy high tea (with a twist) than in the gorgeous Edwardian Domain House in the Te Aroha Domain. Built in 1908, situated on a prominent spur with extensive views of the Aroha Cruise-In classic car and motorbike festival, with live bands, street performers and the hive of activity below. Entrance to Domain House is beside the i-site. Choose a time which suits 10am-12pm or 2pm-4pm. https://www.eventfinda.co.nz/2019/aroha-cruise-in-high-tea/te-aroha
And: Friday Movie Night Join us on Friday night at the St Josephs Hall – Whitaker Street – (next to the Catholic Church) to watch a classic movie "The World's Fastest Indian" featuring Anthony Hopkins. Tickets $7.50 October 4th, 7pm-8.30pm 
Plus: Retro Best Dressed Pageant Have you got your Vintage Day outfit ready for the Aroha Cruise In Pageant? Register on the day. Pageant will be at 12.45 in front of the town clock! https://www.facebook.com/events/405792300079522/
---
For more information: https://www.cruisein.co.nz/on-the-day-2019/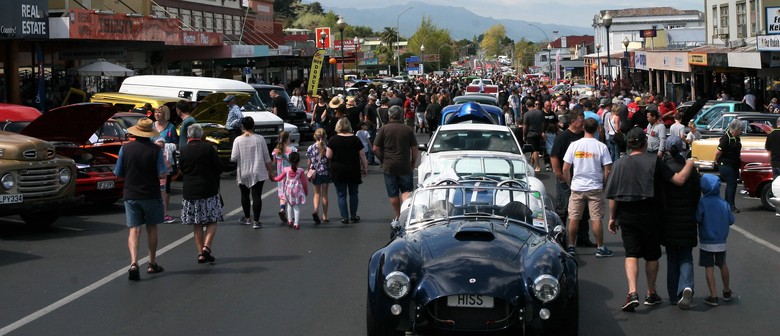 Aroha Cruise-In Entry by gold coin donation with proceeds going to non profit/voluntary groups in Te Aroha. Child friendly.
Find the festival on Whitaker Street behind the Town Clock
WHEN
September 29, 2019 at 7:00pm - September 30, 2019
CONTACT
Robert and Vanessa Nicholls
---