New Kiwi Driver FE Street Racing
[post by Rachelle Tilsley - 29 Sept 2019]
ABB FIA Formula E Championship 6th Season
Following hot on the heels of last Thursday's announcement that Panasonic Jaguar has renewed Mitch Evans' contract with a multi-year sign-on, we hear that yet another New Zealander will be racing in the coming Formula E series.
Double FIA WEC (World Endurance) World Champion, and former Formula One driver, Brendon Hartley has signed with the all-American FE team Geox Dragon.
The 6th season will begin on the streets of Diriyah, Saudi Arabia on November 22nd, 2019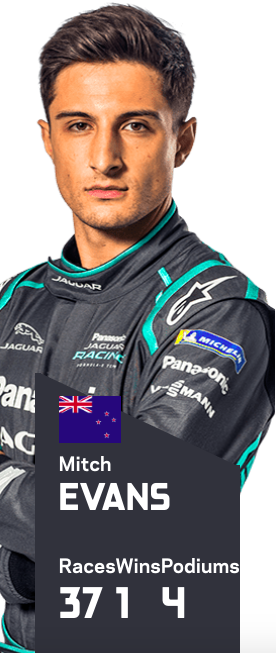 Jaguar
Considering the size of New Zealand, it's a wonder that we have any drivers in the ultimate FIA electric series. And two is just incredibly welcome news.
After securing the British team's first Formula E win in Rome last season, Panasonic Jaguar Racing is pinning its hopes on Mitch Evans to clinch more wins, points and podiums for the team in the future. They have yet to announce their second driver, with Nelson Piquet Jn departing midway through the fifth series after scoring just one point. He was replaced by ex-Virgin Racing Alex Lynn, who had a luke-warm half series.
"I'm really happy to be staying with the team for a fourth season," said Evans. "I have had a taste for victory driving for Panasonic Jaguar Racing now all I want is more!"

"The team is getting stronger and I feel at home here. I'm determined to push forward with Panasonic Jaguar Racing, building on last season's success as we hunt down more points, podiums and wins."
Dragon
Geox Dragon is not expected to perform as well as the Panasonic Jaguar team, nevertheless, it's still a well deserved honour for 29 year old Hartley. He will be joined by former Audi Abt Schaeffler test and reserve driver Nico Müller from Switzerland.
Brendon Hartley is a former Formula One driver and two-time World Endurance Car Champion.
Starting his racing career in 2002 in New Zealand, the Kiwi from Palmerston Northh quickly got to grips with Formula First New Zealand. Racing for two years, Hartley then progressed to the open-wheel Toyota Racing Series in 2005 and Formula Three in 2007—the same year he won his first championship in Eurocup Formula Renault 2.0 with the Epsilon Red Bull Team.
One year later, Hartley secured the role of Test Driver for the Scuderia Toro Rosso Formula One outfit aged 18. The Kiwi would take up the role of Test and Reserve Driver for both Toro Rosso and the Red Bull Racing F1 teams for the 2009 and 2010 seasons before finally making his racing debut with Scuderia Toro Rosso at the 2017 United States Grand Prix, replacing Pierre Gasly, who was absent to take part in the final round of the Japanese Super Formula Championship. Before this, Hartley had enjoyed two years as Test Driver with Mercedes AMG Petronas F1 Team.
"I'm happy to be taking on a new challenge in Formula E together with Geox Dragon Racing," said the Kiwi driver. "Formula E is totally different from any other race series I've been in, but I am hoping my experience in many categories with energy management will pay dividends and give me a head start as a rookie."

"I've always been a fan of street tracks and Formula E has some of the wildest I've seen. That together with some of the best drivers and manufacturers in the world makes it an exciting place to be."
With a history dating back to very first Formula E race in Beijing, 2014, the team entered the all-electric series after seven years competing in IndyCar. Founded by Jay Penske in 2007, Geox Dragon is headquartered in Los Angeles, California—the largest single metropolitan EV market in the world—with additional operations at Silverstone in the UK.
In the fifth season, the team partnered with Italian fashion house Geox to be called the Geox Dragon team. The newly branded outfit paired frontman Jose-Maria Lopez with rookie Maximilian Gunther as they challenged for the title in behind the wheel of the new Gen2 Penske EV-3. In the most challenging season to date, the team finished its fifth campaign tenth in the team standings without a podium finish. Gunther has signed on with BMW i Andretti racing team for the upcoming season.
Mercedes Benz
Two new teams will compete in the 2019/20 series.
With a motorsport history dating back to 1894, when Mercedes-Benz competed in the very first motor race between Paris and Rouen, the motorsport masters now join the most competitive line up in motorsport in the ABB FIA Formula E Championship.
Marking its first year as a full works team, the Mercedes-Benz EQ Formula E Team graduated out of the HWA Racelab outfit, which competed in the 2018/19 season of the Championship. Finishing ninth overall, the HWA squad claimed one podium finish in 13 races with drivers Stoffel Vandoorne and Gary Paffett.
Now proudly bearing the three pointed star on the nose of its brace of Gen2 Silver Arrow 01's, the marque takes on fellow German giants Porsche, Audi and BMW for the first time in motorsport history, alongside some of the greatest names in the automotive industry. Behind the wheel is Belgian driver Stoffel Vandoorne, who enters his second season in Formula E, as well as rookie driver Nyck de Vries, who joins as a full-time driver after graduating from testing duties with the outfit.
After completing its debut season in Formula E, Affalterbach-based developer HWA continues to take responsibility for managing the Mercedes cars on race weekends, while Ian James takes up the post of Team Principal.
"There are teams and OEMs that have been in FE for a long time and they were successful and have the learning curve," Mercedes motorsport boss, Toto Wolff, said in an interview with motorsport.com

"We haven't got all that – we had a learning year with HWA, with not all the resource that is needed to make it successful, so we very much see season six now as an entry point for Mercedes and we don't take it for granted to play a role in the leading pack.

"That will come over time. If we surprise ourselves and we are able to score highlights—being in the top five, going onto the podium – I would be delighted.

"But it's not something we expect in season one [for Mercedes]."
Wolff originally didn't believe that Formula E would make it, but now has completely changed his mind. He says that FE has "learned the lesson of what is dysfunctional in other race series like F1." Mercedes will be the only manufacturer to operate teams in both F1 and FE, following Renault, which entered the first four seasons of FE until it withdrew to concentrate on its grand prix programme in 2018 and was replaced by Nissan.
Porsche
After more than 30 years, Porsche returns to single-seater racing, making its debut in the 2019/20 season of the ABB FIA Formula E Championship. The Formula E racer was revealed in August just a week before the all-electric Taycan's road debut on Sept 4th this year.
Calling on a decade of experience in hybrid and electrified racing, after the marque launched its first hybrid racing car, the 911 GT3 R Hybrid in 2010, Porsche prepares to take on the most competitive line up in motorsport. Following its first hybrid race car, the road-going 918 Spyder hit the road in 2015, which in part formed the basis of the 919 Hybrid race car, in which Neel Jani and Andre Lotterer drove in the 2017 24 Hours of Le Mans.
In the last series, André Lotterer remained with the (then newly named) DS Techeetah outfit alongside teammate and reigning champion Jean-Eric Vergne. The pair brought home the Teams' Championship title at the end of the season, with Lotterer placing eighth overall. Despite being part of the winning team, the opportunity to drive for the Porsche team again was too big an opportunity for Lotterer.
"I have been part of the Porsche family since 2017 and have lots of great memories of joint successes—particularly when working with Neel," said Lotterer. "It's great that we will now be the driver pairing for the Porsche Formula E Team. I'm looking forward to the new task and to the future collaboration with the team."

"I've had such an amazing time with DS Techeetah and I'd like to thank each and every member of the team for the faith they put in me when I joined and for all the great work and unforgettable moments we've had together," he said. "After two years with the team, I was offered a new challenge that I couldn't say no to. I wish everyone the very best and look forward to battle it out from the other side."
Alongside, Philipe Masser (driving for Venturi), Lotterer is the oldest-equal driver in the current series at 38.
With Porsche going up against Audi, BMW and Mercedes-Benz, the series will see all four German car giants go head-to-head for the first time in history.
With a long-standing track record in motorsport dating back to the 1950s, Porsche's entry into Formula E is the latest step in the German manufacturer's history. After its most recent success in endurance racing, including multiple victories in both LMP1 and GT categories, the marque turns to the all-electric racing series to ready the next generation of electric Porsche road cars.
DS Techeetah
With Lotterer's departure, winning team DS Techeetah was on the search for a new driver to join JEV. (Jean-Eric Vergne)
Filling the hottest seat in motorsport, Portuguese driver Antonio Felix da Costa will leave BMW i Andretti Motorsport to join the winning Franco-Chinese team.
"Getting the opportunity to join a double championship-winning team in such a highly competitive motorsport category like Formula E is very rare," said da Costa.

"It was a very hard decision to leave my current position but it's an opportunity I just couldn't say no to and I'm very excited to join Jean-Eric and everyone at DS Techeetah."
BMW
Over at BMW i Andretti Motorsport, the German manufacturer team is yet to reveal its second driver after German Max Guenther signed with the team earlier this month. 22-year old Guenther is the youngest driver confirmed for the season. Despite Sims' last-minute podium in the final race in New York City, the team has not confirmed that the Englishman will be a part of the team for the next season.
---
New Leadership
Jamie Reigle has been named the new Chief Executive Officer of Formula E with immediate effect, as the series' founder Alejandro Agag transitions to Chairman.
With a proven track record in executive roles, growing the Manchester United brand in new territories and most recently driving business operations with the Los Angeles Rams in the NFL, Jamie Reigle will now lead the charge at Formula E and propel the business forward in his new leadership role.
"I'm eager to plug in and work with Alejandro to continue to develop Formula E as the most exciting series in motorsport and a platform for the potential of the future of electric vehicles and sustainable mobility," says Reigle.
Agag will work alongside Reigle in his new role, retaining relationships with key sponsors, teams and long-standing partners such as the FIA, as well as existing host cities. Reigle will oversee the overall management of the company, day-to-day operations and the delivery of ambitious plans for growth on a global scale.
---
2019/20 Race Calendar
In other breaking news, Jakarta has been named as a new city for the 2019/20 Street Racing series season which begins with a double-header in Saudi Arabia in just 7.5 weeks.
On June 6, a full grid of 24 cars and the most competitive line-up in motorsport, including new manufacturers Mercedes-Benz and Porsche, will navigate their way around the National Monument in Merdeka Square in the centre of the city.
"Indonesia already has an affinity with motorsport," says Alberto Longo, Co-Founder & Chief Championship Officer of Formula E. "They've hosted races and events in the past and developing drivers who've progressed up the ladder—as well as having an extremely engaged and growing fan base.

"On top of that, it's also an emerging market for electric vehicles, with increased investment already being made to push production and clean up the air around the cities. Formula E wants to play a part in that positive change and with the most competitive grid of manufacturers in motorsport, I can't wait to go green in Jakarta on June 6 next year."
Alongside Jakarta, Seoul and London will also join the ABB FIA Formula E calendar as brand new race cities.
A bespoke city street circuit will take in some of Seoul's best-known sights, with seven turns housed inside the Olympic stadium on May 3rd.
Racing around the London's iconic Royal Docks and ExCeL London exhibition centre, the race will be the first time that an FIA-sanctioned championship event has taken place in and around the streets of London—with Crystal Palace hosting non-championship races in Formula 1 almost half a century ago.
The London double header finales on July 25th & 26th, will be a first for top-level international motorsport. Made possible by the emissions-free nature of the Gen2 cars, the unique track weaves its way both inside and outside of ExCeL London.

Full FIA Formula E Race Calendar 2019/20
iPace eTrophy Race Calendar 2019/20
2019/20 Team

2019/20 Gen2 Car

Team Standings

Driver 1 (Nationality-Age)
(Win-Podium-Race)
Driver 2 (Nationality-Age)
(Win-Podium-Race)

DS Techeetah

DS E-Tense FE20

French/China

Wins 8 (2019 champ)

Podiums 22

Races 37

Jean-Eric Vergne (France-29)

8-20-56

Standings:1st

Antonio Felix da Costa (Portugal-35)

2-5-54

Standings: 3rd=

Audi Sport Abt Schaeffler Formula E Team

Audi e-tron FE06 (new livery)

Germany

Wins 12

Podiums 40

Races 58

Lucas di Grassi (Brazil-35)

10-30-58

Standings: 3rd=

Daniel Abt (Germany-26)

2-10-58

Standings:7th

Envision Virgin Racing

Gen2 Audi e-tron FE05

England

Wins 10

Podiums 25

Races 58

Sam Bird (England-32)

8-17-58

Standings:9th

Robin Frijns (Netherlands-28)

2-5-35

Standings: 4th

Nissan e.dams

Japan

Wins 16

Podiums 32

Races 58

Sébastien Buemi (Switzerland-30)

13-25-56

Standings: 2nd

Oliver Rowland (England-27)

0-2-14

Standings: 10th

BMW i Andretti Motorsport

BMW iFE.18

Germany

Wins 1

Podiums 10

Races 58

Max Guenther (Germany-22)

10-0-0

Standings:17th

TBC

Mahindra Racing

Mahindra M6Electro

India

Wins 4

Podiums 18

Races 58

Jerome d'Ambrosio (Belgium-33) TBC

3-9-58

Standings: 11th

Pascal Wehrlein (Germany-24) TBC

0-1-12

Standings: 12th

Panasonic Jaguar Racing

Gen2 Jaguar I-Type 4

England

Wins 1

Podiums 4

Races 37

Mitch Evans (New Zealand-25)

1-4-37

Standings: 5th

James Calado (British-30)

0-0-0

Venturi Racing

Monaco

Wins 1

Podiums 6

Races 58

Felipe Massa (Brazil-38)

0-1-13

Standings: 15th

Edoardo Mortara (Switzerland-32)

1-3-22

Standings: 14th

Geox Dragon

Gen2 Penske EV-3

USA

Wins 2

Podiums 9

Races 58

Brendon Hartley (New Zealand-29)

0-0-0

Nico Müller (Switzerland-27)

0-0-0

NIO 333 FE Team*

China

Wins 2

Podiums 6

Races 58

Oliver Turvey (England-32) TBC

0-1-47

Standings:20th

Tom Dillman (France-30) TBC

0-0-23

Standings: 23rd

New Teams

Mercedes-Benz EQ Formula E Team**



Silver Arrow 01

Germany

Wins 0

Podiums 1

Races 13

Stoffel Vandoorne (Belgium-27)

13-0-1

Standings:

Nyck de Vries (Netherlands-24)

0-0-0

TAG Heuer Porsche Formula E Team

99X Electric

Germany

Wins 0

Podiums 0

Races 0

Andre Lotterer (German-38)

0-4-25

Standings: 8th TBC

Neel Jani (Switzerland-35)

0-0-2
* The NIO team has been sold to Lisheng Racing, but will continue under the NIO brand. It is unclear whether it remains a works team or becomes a customer team.
** The Mercedes-Benz EQ Formula E Team will enter the championship while HWA, which had run customer Venturi powertrains as HWA Racelab in the previous season, will run Mercedes' trackside operations.
[Rachelle Tilsley - 29 Sept 2019]