What's Happening in International Markets?
[[article by JoséPontes EV-Sales - tracking world EV trends - 23 September 2019]
Two emerging European markets for EV are bucking the general trends: Romania and Portugal.
Transfagarasan highway, Romania: arguably the most beautiful road in Europe
The Romanian PEV (plugin EV) market is on fire, with August hitting a new registrations record for the European nation. And most
spectacularly, it is the first nation EVER to record all BEVs in the top 10 new registrations.
Meanwhile Portugal has completely headed in an alternate direction, with PHEVs dominating.
In Slovenia, a dramatic drop in PHEV sales has meant the whole PEV market has slumped YTD 2019, despite moderate growth in BEV.
While in Switzerland, the Tesla Model 3 is red hot!
Romania: Aug 2019
The August new record was 270 units being registered and a 1.2% market share. The YTD 2019 share to jump to 1%.
Placing

Romania

August

YTD

%

1

Renault Zoe

53
260
22
2
Nissan

Leaf

79
240
21
3

BMW i3

30
123
11
4

VW e-Golf

32
102
9
5

VW e-Up!

64
6
6

Smart Forfour EV

3
59
5
7

Smart Fortwo EV

1
39
3
8

Tesla Model 3

3
33
3
8

Tesla Model S

1
33
3
10

Jaguar i-Pace

7
21
2
Others
61
183
16

TOTAL

270

1157

100
As you might have noticed, all 10 models from this ranking are BEVs, a consequence of BEVs representing 91% of all plugin sales, making this one of the most BEV-friendly markets anywhere.
The Renault Zoe is leading the way, ahead of the Nissan Leaf and the BMW i3, with these last two scoring record performances in August, so the French hatchback could be overthrown in the coming months by its Japanese relative.
Volkswagen is gaining ground, thanks to the rising VW e-Golf, that hit a record 32 deliveries last month, while the Jaguar i-Pace joined the Top 10, making this a 100% Top 10.
In the manufacturers ranking

, Renault is ahead, with 22% share, closely followed by Nissan (21%) and Volkswagen (15%)
.
---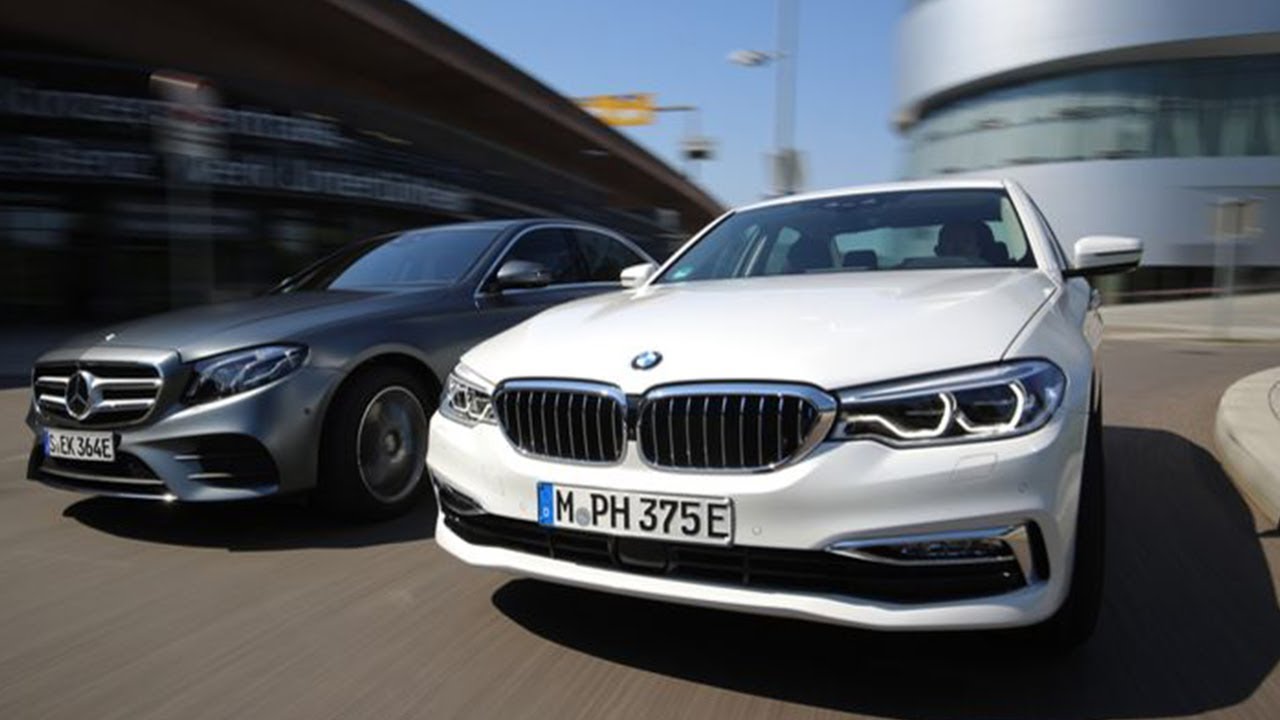 Portugal Aug 2019: PHEVs Strike Back
PEV Sales were up 28% in August 2019, with 757 plugins being registered. Plugin hybrids surprisingly growing faster than all-electrics (+30% vs +26%), allowing PHEVs to recover ground regarding BEVs (48% for plugin hybrids in August, versus 37% YTD).
This moderate growth, added to the decline of the overall market (-6% in 2019), allows the 2019 PEV share to grow to 4,8% (6,1% in August), with this year count (7.574 units) being significantly higher (+56% YoY) than last year result.
The reinvigorated Nissan Leaf remains in #1 (for how long? September? December?), followed by the
off-peak month
Tesla Model 3, while the #4 Mercedes E300e/de twins continue to race with the #5 BMW 530e are closely running for the Best Selling PHEV title (and best selling luxury vehicle award too).
Local Incentive Scheme Skews Registrations
Why are these two luxury cars so high in the ranking? Well, it all has to do with the local incentives, as there are significant company car incentives for all plugins (BEV and PHEVs), but with a price cap, that prevent nameplates like the Tesla Model S to access them, while these two fit right under the price cap, allowing them to maximize incentives (basically, they are the priciest cars that can be included in the incentives pack.)
Below the top spots, the first position change happened in #9, with the BMW 225xe Active Tourer jumping two positions, thanks to 68 registrations, its best result ever.
And that wasn't the only PHEV climbing positions, as last month saw several plugin hybrids stepping up spots: the Volvo XC60 PHEV was up one position, to #12, the #17 Porsche Panamera PHEV also climbed one position, while the Volvo V60 PHEV is now in #19, thanks to 18 deliveries, the nameplate best result in over a year and a new record for the new generation of the Swedish Station Wagon.
Why this counter-current PHEV resurgence in Portugal, when BEVs are taking over the rankings across Europe?

I believe it has to do with the high share of company cars on the local plugin market, added to the fact that PHEVs still receive the same fiscal treatment/incentives as BEVs. [Jos

é

Pontes]
In the manufacturers ranking
, things are pretty balanced, with Tesla is leading the way (18%), while Nissan and BMW (both at 16%) try to reach the US carmaker.
Outside the medal positions, Renault (9%) is the only close enough to bother the podium bearers.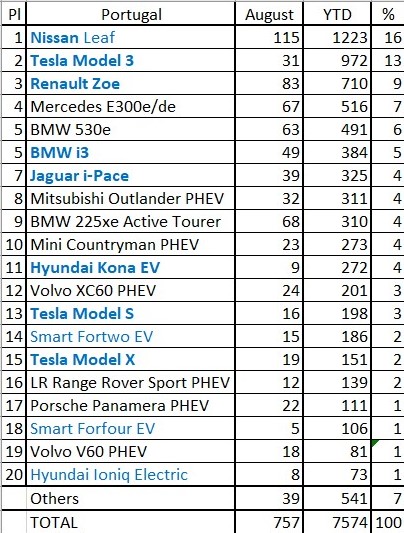 ---
Slovenia
This BEV-friendly market, is now almost unanimous: 91% of registrations belong to BEVs,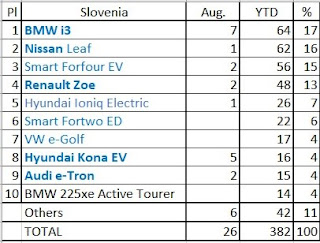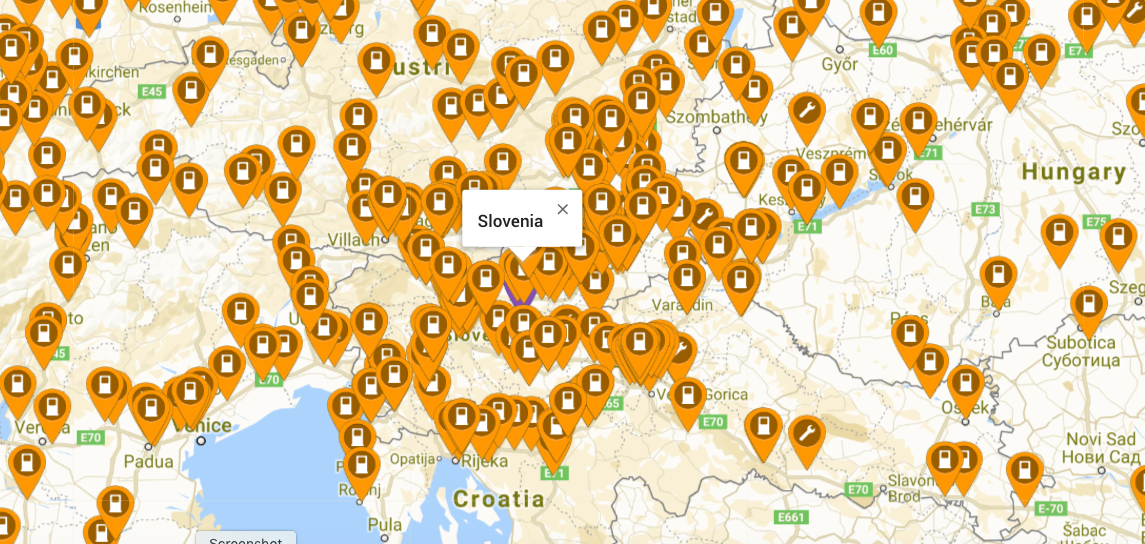 Switzerland
While not officially part of the EU, Swiss PEV market is up 64% in 2019, by registering 9.324 units, with the PEV share now at 4,6% (4,2% last month).
[article by José Pontes EV-Sales - tracking world EV trends]