Alsco Leads The Way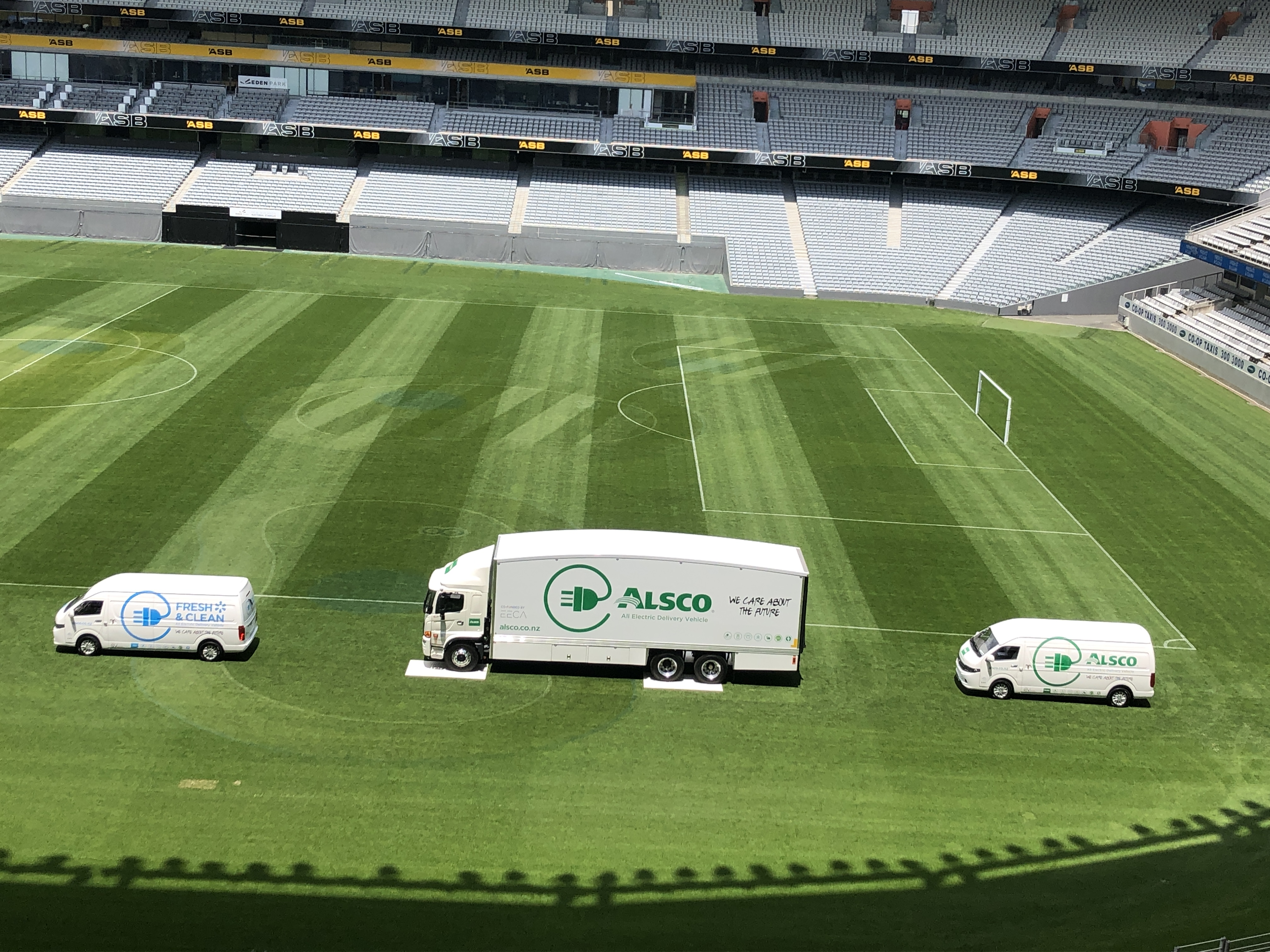 Alsco, formerly NZTS, is a laundry business with a long history in NZ. Yesterday it launched the first long haul EV road freighter in NZ to a crowd of approx 170 people at Eden Park in Auckland.
I went along to the launch wondering why this was a particularly important moment, when EV Heavy Transport already exists. To name a few local examples: the WEL Networks lines truck, the Waste Management rubbish trucks, Container Co's truck and trailer unit operating in Penrose.
Yes, it is a long haul road freighter, which is indeed new in NZ, but it is to be utilised on Alsco's shortest heavy distribution route—some 284 kilometres. So what was this all about? I was soon to be impressed.
This was less to do with Alsco launching a truck, and more to do with Alsco leading the way by showing other businesses how the math stacks up.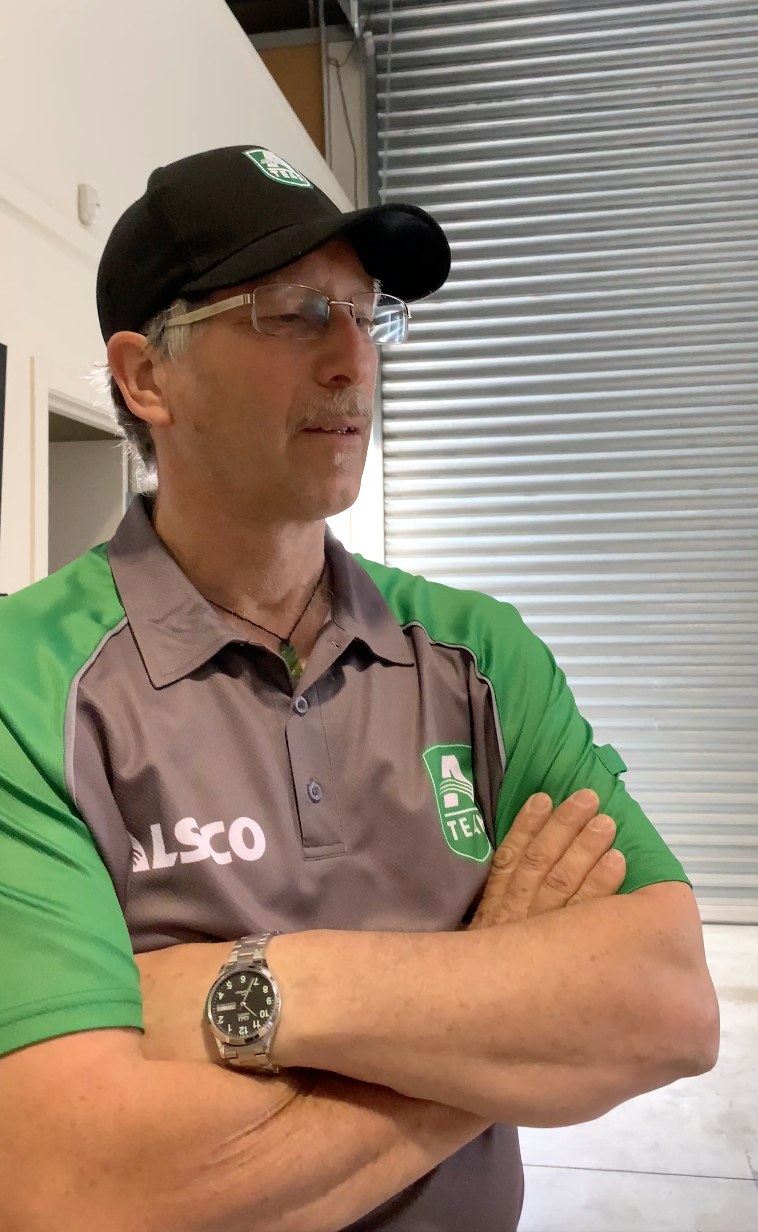 Pictured right: Craig Christensen, the first intercity heavy EV truckie in NZ, joins a very niche (but growing) group of EV truckies.
Often heard is the claim that:
"EVs might be ok for the light passenger fleet, but they're no good for the heavy fleet, particularly any specialist vehicles. And while you might be able to pay off a Hyundai ioniq fleet car relatively quickly, good luck trying to pay off a road freighter in ten years."

In fact, I was presented with this very statement at the launch while we were waiting for the formalities to begin.
The math is something that we have been trying to reassure people about, but haven't had the data to back up our claims, as very few were doing it in the heavy vehicle sector. Plus two of the three examples I used above have their own power sources.
This is what Alsco wants other businesses to know:
The EV Freighter is predicted to save $17,851 per year in diesel and maintenance compared to the Diesel equivalent.
Road User Chargers are currently waived for the EV Freighter, this will save Alsco $34,378 per year
For businesses with a desire to reduce emissions but have financial reservations, our conservative modelling indicates that even with no EECA grant, and inclusive of current Road User Chargers, this Heavy EV recovers the additional capital spend within the Alsco normal 8-year depreciation cycle.
Businesses prepared to explore opportunities co-funded by EECA via the Low Emission Vehicle Contestable Fund may find the additional investment is recovered in months, not years.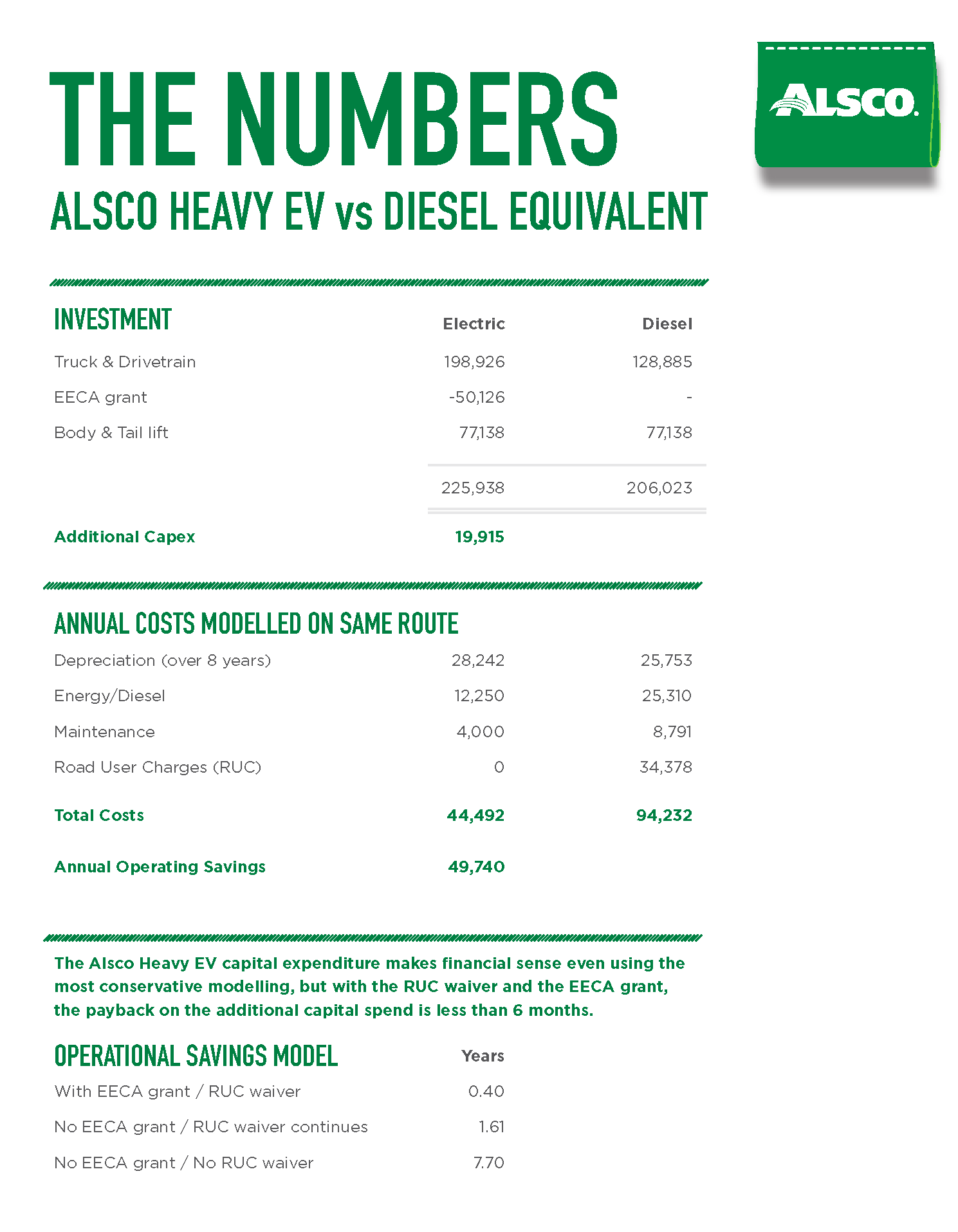 PEOPLE PLANET PROSPERITY
The launch was presented by Alsco's NZ Group General Manager, Mark Roberts. Also attending the launch was the Hon Dr Megan Woods, minister for climate change; the Hon James Shaw, co-leader Greens Party; His Worship the Mayor of Taupo, David Trewavas; and Andrew Caseley, EECA Chief Executive.
"Alsco's project is a great example of what EECA's Low Emission Contestable Fund is for. They're pushing the boundaries, proving that electric heavy freight is possible, good for profitability, and good for the planet. It's a compelling case for industry to get onboard and EECA is delighted to have supported it," said Caseley.
Alsco NZ is the largest operator within the linen, uniforms and first aid supply industry sector in the nation.
Initially, the truck will be put to the Rotorua to Tauranga to Rotorua route each morning. Then an afternoon route of Rotorua – Taupo – Rotorua. In total this 8-hour shift covers a 284 km route. With the range of the truck at just over 200 km, they will be installing charging stations at all three depots. The truck will charge while loading.
Fully laden, the heavy EV will be 22.5 tonnes. The coach is a lightweight composite design. The truck body is designed with a curved aerodynamically shaped roof, reducing down force, which in turn reduces drag. Side skirts also smooth airflow to reduce drag. The truck is built by Sea Electric using tech from Action Manufacturing, and based on a Hino GH1828 with SEA-Drive 180 power-system. Power range is 259 – 372 kW, with torque from 1852 – 3500 Nm
Longterm, Alsco plans to replace all 15 of their diesel freighters, combining battery life technology with further operations and handling innovations, such as a reduction in water use. Currently, the 15 diesel freighters consume a third of the fuel powering Alsco's 350-strong fleet.
The vans pictured above are also fully electric by Sea Electric, and with a range of 330 km they have been built on the Golden Dragon (HiAce) chassis. They can be fitted out either as a taxi or left bare as a high capacity van.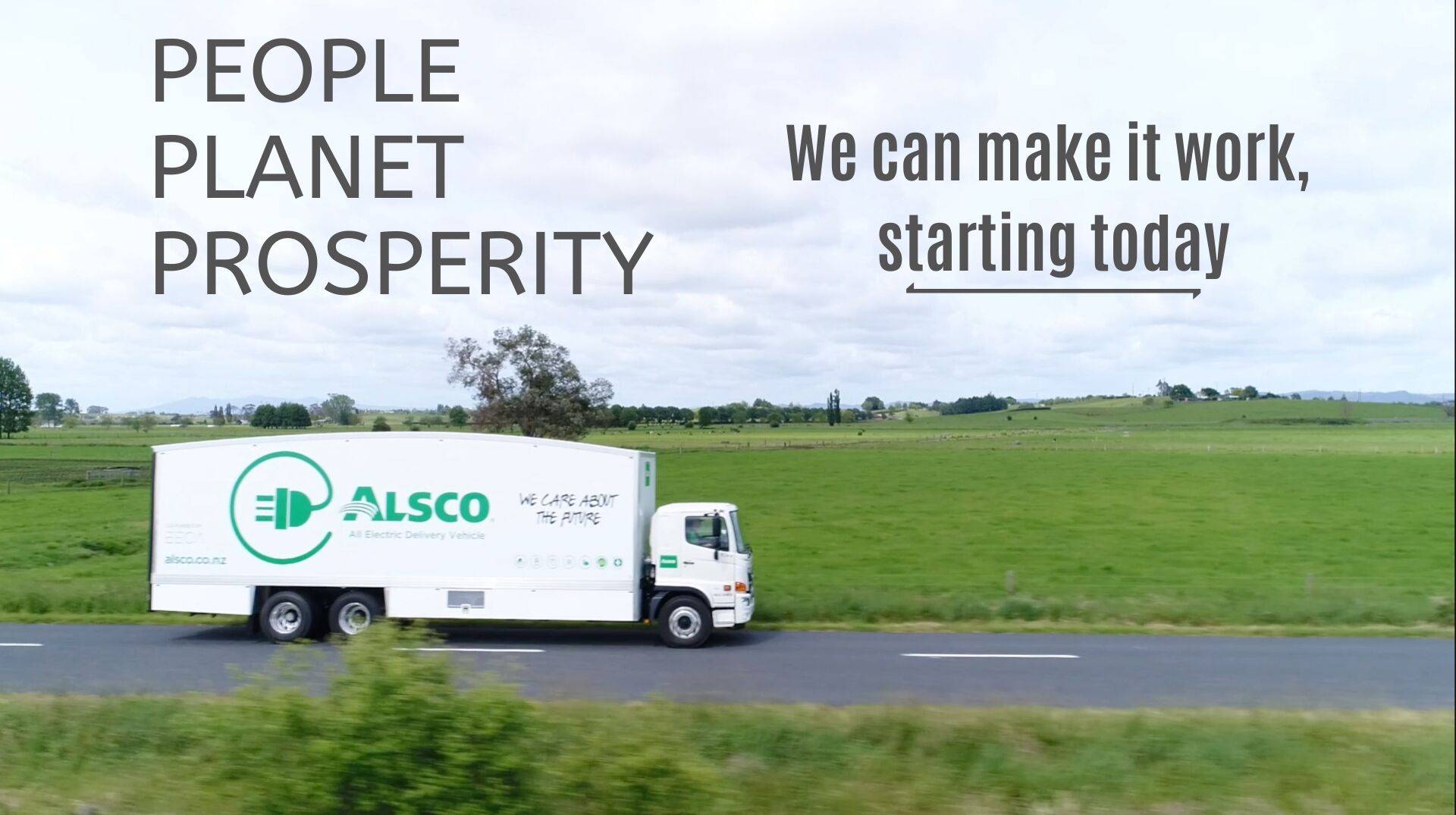 Estimations for EV savings are based on real data using a laden 16 tonne diesel truck travelling 284km daily, 5 days a week between Rotorua, Taupo and Tauranga. The emission factor used to estimate potential EV savings has been provided by Instep using combined NZ MfE and UK Government DEFRA Factors 2019, to create a tonne kilometre (tkm) factor. At this stage, actual freight factors for laden EV trucks in tkm are unavailable, due to a lack of real-world data. This is likely to change in the coming months, and real data will be updated when available.