Electricarna New Plymouth 2023
Sat, Apr. 22, 2023 10:00 — 14:00 Taranaki
The Better New Zealand Trust and Taranaki EV Owners Group brings you Electricarna 2023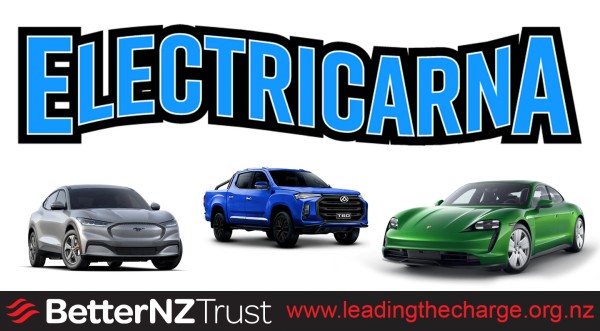 A gathering of people interested in EVs and for sharing information with each other and interested visitors.
If you own an EV or are interested in learning more about them, this is an event to be at.
There will be a variety of EVs from Nissan Leaf, Tesla, Ioniq 5, BYD, LDV, Mustang Mach-E, Audi e-tron GT and Porsche Taycan but that's not all as more sign up every day.
Bring the Kids there will be food and entertainment for the entire family.
This event wasn't held last year due to COVID restrictions but in the past, we have had over 20 EVs so this year should be even better!
Tasman Prospect Park, New Plymouth near the Wind Wand.
Here is a Maps link.