China Flunking NEV Sales as Year End Looms
The steep decline in China's NEV sales continues and it is accelerating. Preliminary results for October indicate 48% fewer deliveries than in October 2018; even October 2017 was higher.
Police patrol on electric vehicle in
in pedestrian part of a Nanjing street
, China
China NEV Sales for 2019 Q3 + October
[5 Dec 2019 - Roland Irle - EV-volumes]
The slump started in July, after the announce subsidy reductions became effective and the recent trend has confounded policy makers and market observers alike. Purchase incentives for NEVs have been cut before, but this time, the usual recovery after 2-3 months did not materialise. The prolonged crash was unlikely a part of the plan.
The MIIT, setting the course for the NEV industry, is determined to deflate a sector that showed signs of overheating and is being overcrowded by new-comers with uncertain viability. Apart from subsidy cuts, new barriers for entry have been established, limiting the number of manufacturing subcontractors, demand a minimum of R&D funds and production capacity. Requirements for battery capacity and esp. safety were increased another time. Battery fires and recalls have high public awareness and cause suspicion. The combined effect of measures and events is now broad based.
Even the market leaders post big losses in their NEV business and the volume erosion among smaller players with 2-3 years of market presence speaks trouble. The overall Chinese car market has been in decline for 16 consecutive months now, while the sales of NEVs kept growing, at least until June. It is for the strong results from H1 that year-to-date, the balance is still positive. 963 000 NEV passenger cars and LCVs have been delivered from January to October, 19 % more than in the same period last year.
The forecast for 2019 has a lot more uncertainty than last year. Our contacts in China do not expect a recovery during the last 2 months of the year. Our outlook for 2019 is a volume of 1.1 to 1.2 million NEVs, (Cars, SUVs, MPVs and LCVs) in a light vehicle market of 25.4 million, 8 % lower than 2018. The best estimate, 1164k, converts to a NEV share of 4.6% and zero growth over 2018. The fundamentals, like Government targets for EV deployment, ICE restrictions, EV portfolios and charging infrastructure investments speak for further NEV growth, but we do not see the sector returning to the relentless 60 – 100% growth rates of previous years. Officials have re-stated the target to produce 2 million NEVs (BEV, PHEV, FCEV) in 2020. This includes 150k – 200k of commercial vehicles and buses. With the current conditions and sentiment, these numbers could be hard to reach, but we expect at least an improvement relative to the current situation.

Dwindling Demand and Supply
NEV sales took another dive in September, -25%, following -12% in August and -2% in July.
For October the losses accelerated further, with preliminary data showing a dismal 48% decline, including estimates for imports and LCVs. For market shares, the reductions are less, as the total car market contracted by 3% to 7% y-o-y during these months. The NEV share trend is now approaching the level of 2017, which is far below the 2018 actuals and the trend during 2019 H1.
NEV subsidies were reduced several times in past years. The current trend reflects more than just lower demand from reduced handouts. NEVs may experience their first confidence crisis: The Government now pushes for quality instead of quantity, for competition instead of subsidies, OEMs fall back to more profitable ICE production, consumers lose faith in struggling NEV makers, and over-optimistic vehicle specification claims. Aftermarket support is lagging and there have been battery fires. On top of that, purchase taxes on conventionally powered vehicles have been reduced by some percent in order to stimulate the vehicle market.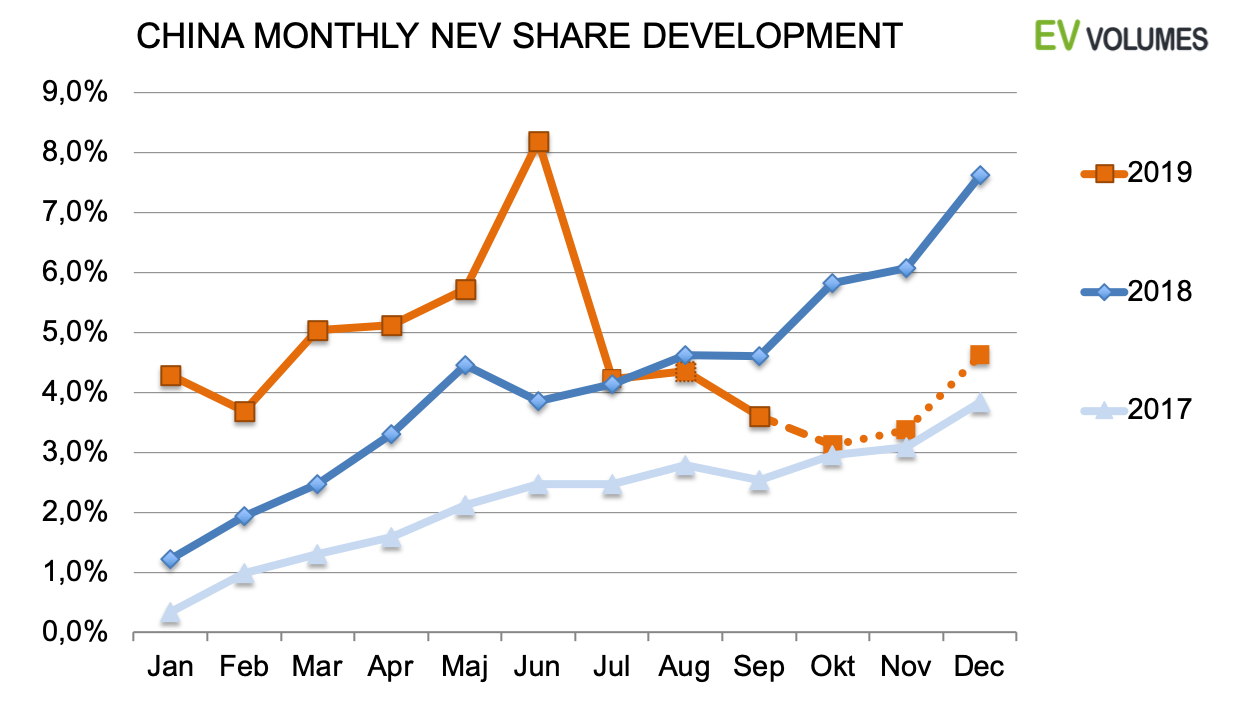 Zero Growth this Year
The harshness of the downturn was not expected by policy makers, nor most market observers, including us. At the end of 2018, 2 million in 2019 seemed plausible, in June, most forecasts for the year were still at 1.6 million, reduced to 1.5 million after the July result. We are now expecting 1.1 to 1.2 million light vehicle NEVs for 2019, mid-point this means zero growth this year. In a contracting overall market, down ca 8% from last year, the NEV share is still growing from 4.2% to 4.6%.
It is hard to find a silver lining in this development. One is, hopefully, more reasonable planning, going forward. Another should be fewer bottlenecks in raw materials and battery supply.
The following section analyses how NEV makers sales volumes are affected by the crash.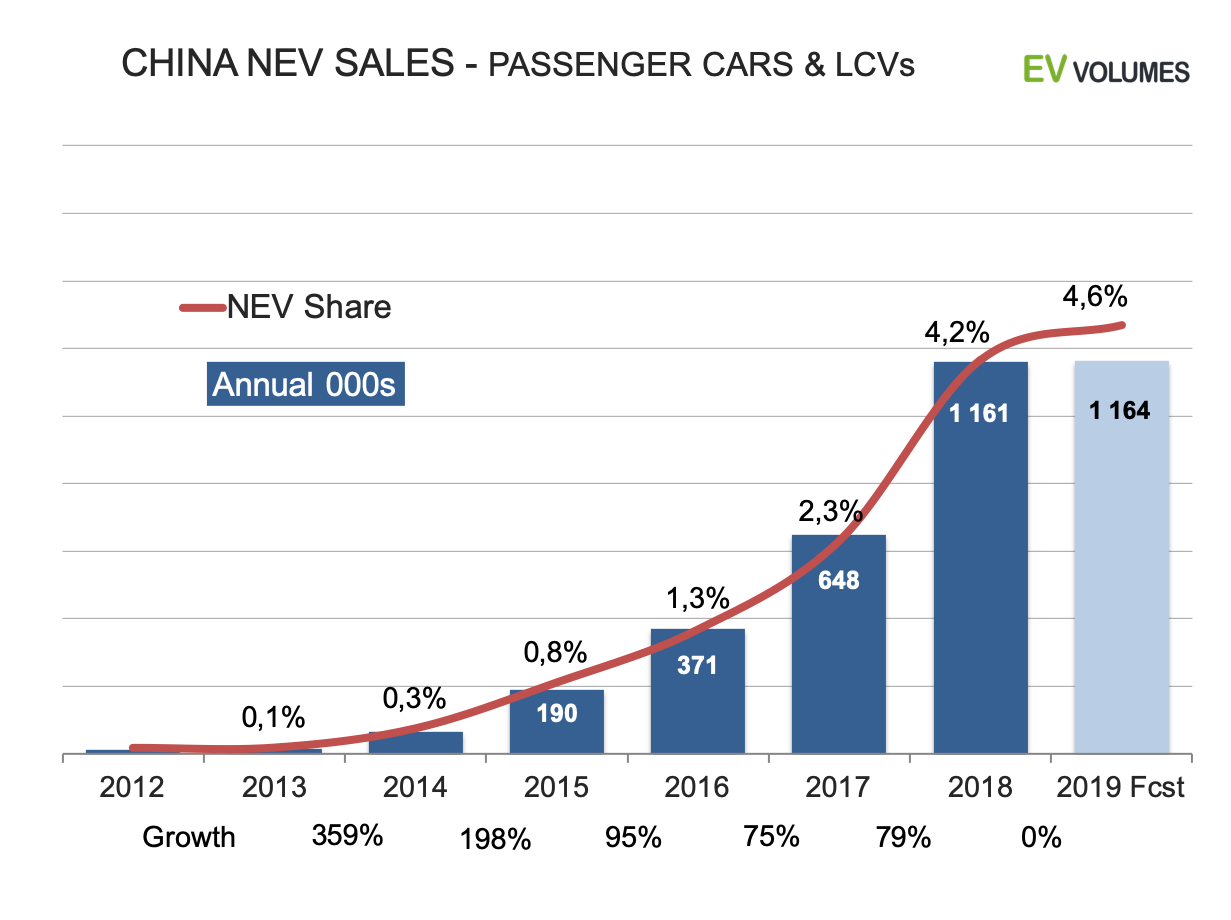 The Meltdowns Winners and Losers
Year-to-date October 2019, NEV sales still show +19 % versus Jan-Oct 2018, living on the strong first half of 2019. This analysis is for the last 4 months of consecutive decline and how it played out for the largest Chinese OEM, foreign brands and start-ups.
Size is no warrant, as the losses of the largest OEMs of New Energy Vehicle witness. BYD sales were 37% lower than for July – Oct 2018, BAIC -12%, Geely -34%, SAIC -55%. As the NEV total was down 25% most of them lost sector share, too. BAIC could avoid this with an upgraded EU-Series Sedan (aka EU5) and GAC gained by their Aion S Sedan, both popular among ride hailers. Great Wall did comparably well with their recently created "Ora" sub-brand, even if the sequential volume trend during 2019 is less impressive.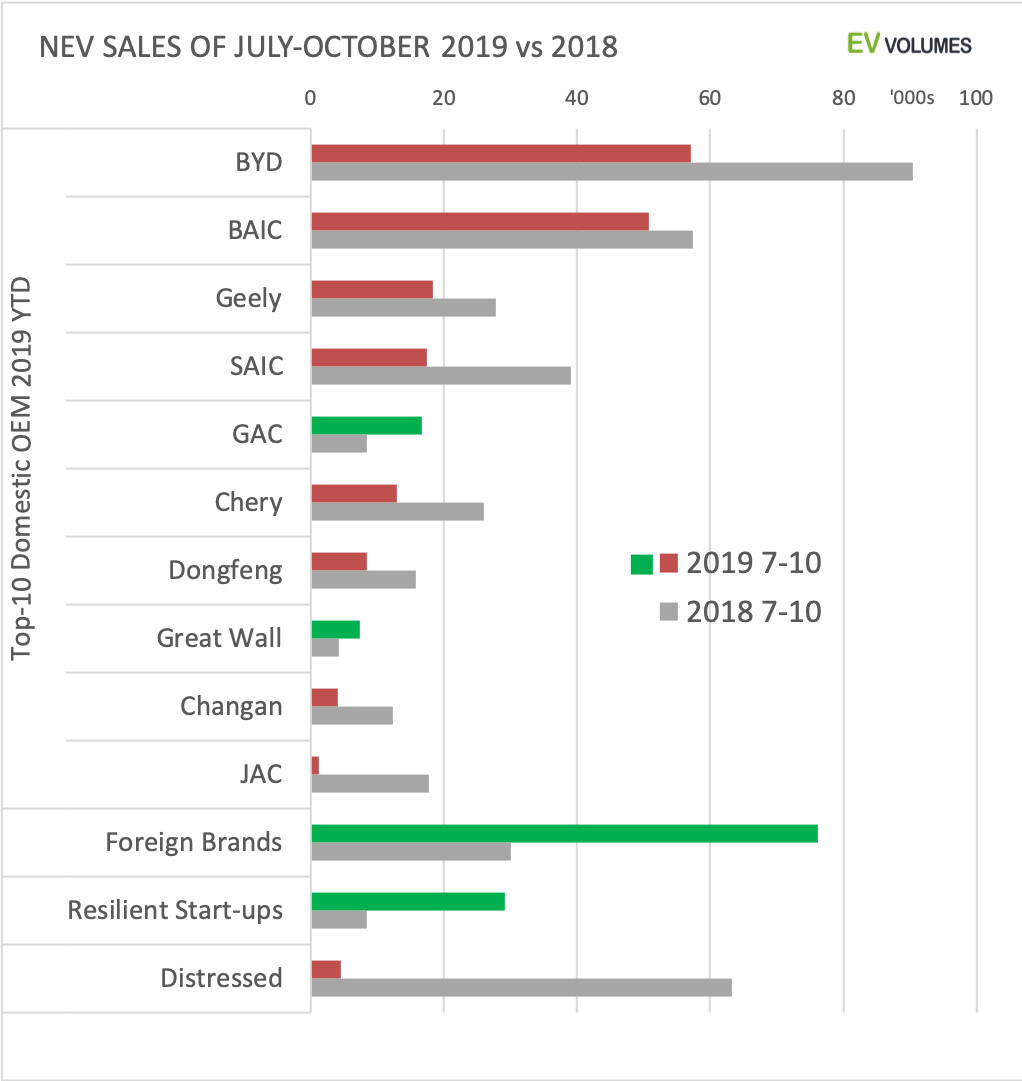 Losses of Chery, Changan and Dongfeng were substantial and deliveries were slow and erratic on their previous best sellers. JAC acts as production contractor to VW and NIO and seems to have abandoned deliveries of JAC branded models altogether.
The balance for foreign brands looks very positive in this context, as many of them had low sales in 2018. Much of the gains come from localised models in J/Vs with Chinese OEMs. GM's low-cost mini-EV brand Baojun, made by SAIC, is still selling in high numbers, 25k during the last 4 months. VW increased 5-fold, Hyundai Kia +50%, BMW +34%. Tesla, still all imported, was up 275% from beginning Model-3 deliveries.
Others (Ford, FCA, JLR, Nissan, PSA, Toyota, Honda, Daimler, Volvo) were less successful, with low deliveries from their J/Vs and dwindling sales for H2.
Among start-ups and smaller players, NIO, Hozon, X-Peng, WM, FAW and Hanteng increased sales. The balance looks grim for 15 other, distressed makers. Their combined volume was 63k units for July-Oct last year, down to less than 5k for this term. We want to avoid their exposure here; contact the author if you must have more information.
Rigid plans, but high uncertainties
The Chinese NEV fleet (vehicle population) is approaching 3.6 million for December 2019, counting light vehicles, 45% more than at the end 2018. In addition, there are 600,000 heavy electric vehicle on the road in China, most of them buses in metro areas.
The MIIT has restated the goal of 2 million NEV produced in 2020 and more than 5 million NEVs on the road at the end of 2020. While the 5 million stock target is well within reach, the 2 million production target would mean a return to growth at a rate of over 50 % in 2020. With the prevailing market sentiment, it would mean vast oversupply, unless Chinese makers start to export in much larger quantities than the 3500 units of this year. Further subsidy cuts during 2020, which were considered by officials, should not be expected. Rather the opposite is needed. The next round of cuts is due for 2021 anyway.
The Chinese NEV market remains a hard place to navigate. Expect the unexpected.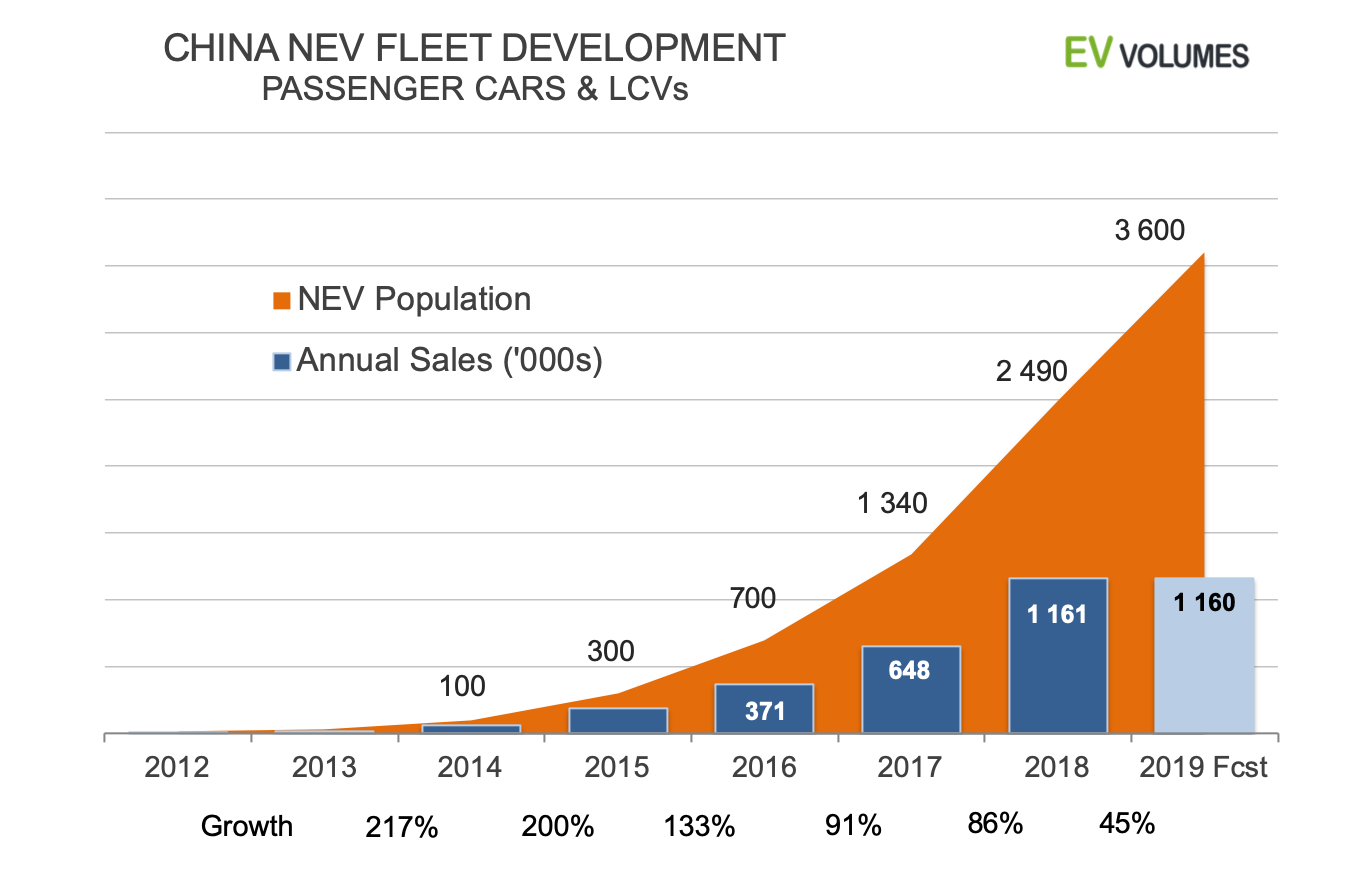 [Article courtesy of Roland Irle - EV-volumes,
5 Dec 2019
]